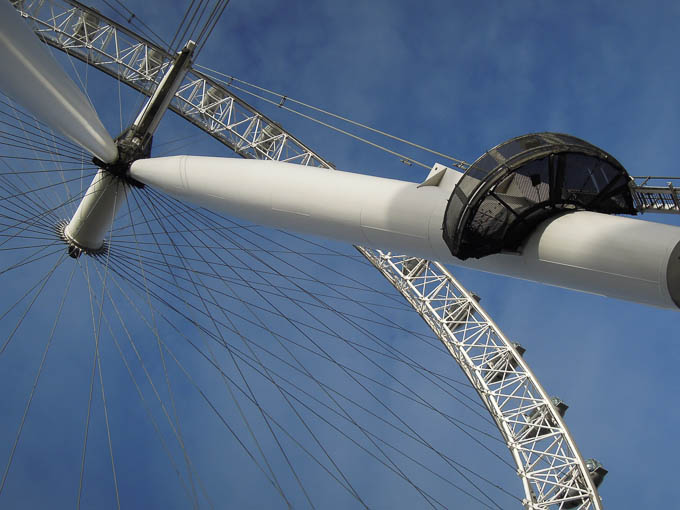 While staying near Westminster Bridge in London, I wanted to get photographs of the London Eye (the largest observation wheel in the world) and a few landmarks, as well as some reference material for drawing cityscapes. It was a clear winter's morning, and I couldn't cope with the cold for long before my hands were hurting. Still, the extra time with my hands in my pockets allowed me to think more carefully about what I was trying to achieve…
At 135m tall, the London Eye is an immense cantilever construction, and it's situated right next to the Thames; I'll be back there another day to see if there are any awesome reflections to be had. Meanwhile, I wandered under the structure and saw a few angles I liked. The winter sun was bright and at a good point in the sky for throwing shadows all over the place, and the area wasn't too busy so I was able to get in where I wanted without being pushed and shoved all the time. Some nearby tourists were photographing the Houses of Parliament, but I didn't like that viewpoint much and there was plenty to do with the big wheel for now. I found the industrial mood exciting and I studied mathematics at college, so I wanted my pictures to reflect what I was getting out of the engineering and geometry.
This wasn't supposed to be a big shoot with me reeling off a few hundred shots to pick from later, or any kind of attempt to do something completely new and different in terms of angles and/or post production. I wanted to avoid the obvious, but it was more important to me to get the basics right. I allowed myself just twenty chances to get all the shots before moving on, because I figure anyone can strike it lucky if they take hundreds of pictures! …That is not to say I am a photography snob – I simply don't have enough skill to develop such a justifiably-pompous attitude! – I just like setting myself constraints to work within because I don't have anyone teaching me, and I'd guess that's what a mentor might do to get me to look at things differently.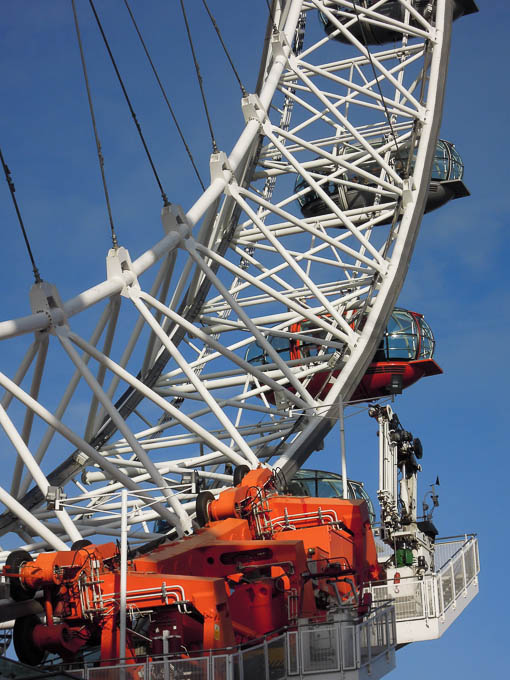 The spicy orange machinery is perfect against the fresh, blue firmament – I will try that palette out sometime when I'm painting! It was mid morning on a very cold day, the sky was clear and the bright winter sun was casting some fantastic shadows across the structure. There was a nice transition above me where the observation pods were emerging from the gloom into the full sunlight. For a while, I watched the silhouettes standing around in the carriages, pointing at the vista and chatting to each other. I wanted to be up there with them, hence the first picture (above) showing the view through the centre to the unattainable, top-most pods.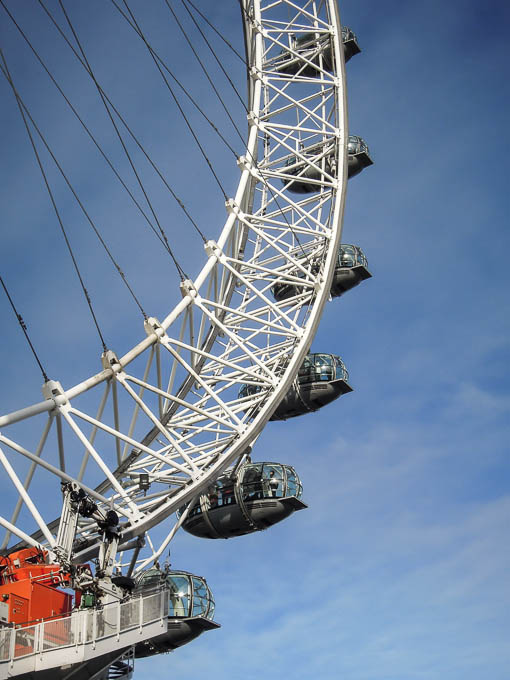 The 10-tonne carriages, or "capsules" as they are properly called, are equally spaced and identical, except for a single red one. This pod is normally orange (Pantone 172) to match the branding of the current corporate sponsor, but it's red at the moment in support of an annual UK charity event called Red Nose Day. The decision to change one of the capsules to a bright colour caused controversy at the time, but it simply reflects a design aesthetic that's being overused everywhere (although often to very good effect), i.e. having a row of identical things with just one being different. In society, we are often told it is important to stand out and be different from the crowd… We have to be faster, harder working, more beautiful, better parents, higher paid, etc. Suddenly, I am looking up at this solitary red pod going round and round in a circle, and I'm thinking about life, art and all sorts of things. I took a shot of the red capsule starting its ascent, just moving past the machinery and going out into the world. It's partly obscured, so we can't quite see what it is just yet.
The gentle speed of rotation makes for a very dignified ascent – a full revolution takes about thirty minutes. In fact, it would have been a really laid-back experience to photograph the sights if the sun had stayed put as well! But the shadows were moving all the time, and therein lies the excitement of trying to capture an ever-changing scene, methinks.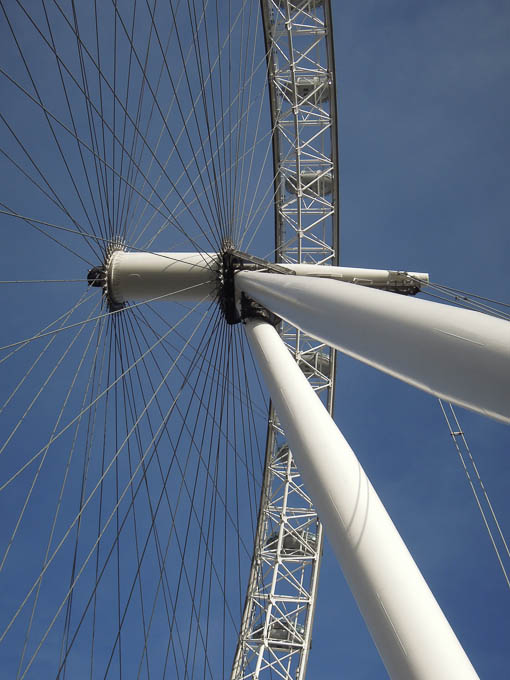 I like how the spokes line up to give the impression of a huge lattice. It looks like one wheel of a giant push-bike! Here, you can see how the giant cantilever struts join in to the centre of the Ferris wheel. I love this photo; I wasted quite a few of my limit of twenty to get this angle just right.
Well, having taken a lot of shots of the London Eye looking massive, I now wanted something that brought it down a little closer.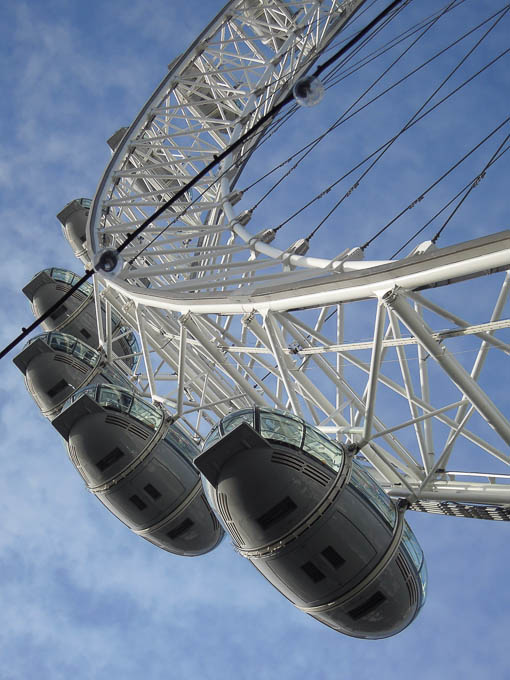 This angle makes it harder to work out just how huge the structure really is. I like how the capsules are all hanging there in the sky; perfectly arranged pods. I wondered how to take something in motion, and still be able to convey the direction of movement in a still photograph. I thought the human mind might be conditioned to protect us from things falling from above, so I got under the descending pods.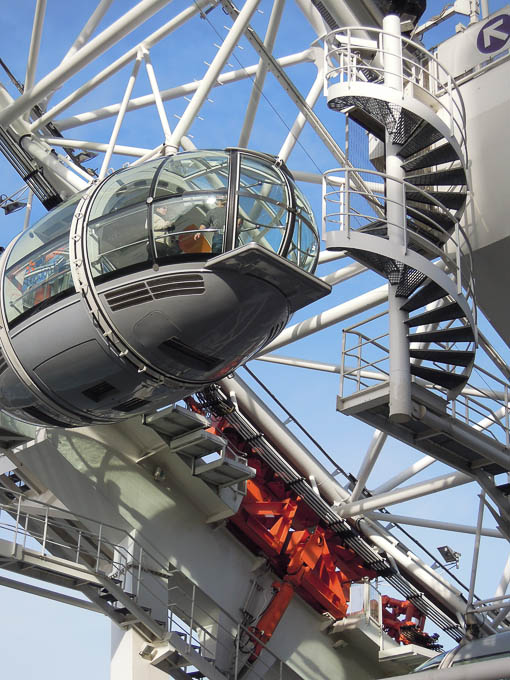 A London Eye capsule about to dock. I'm not going to say too much about this one because I think it's fun, although I do admit it has a certain "corporate newsletter" look to it, and perhaps that's partly why I'm amused. The real appeal, however, is how I saw it when I was reviewing it back at home: it's almost the set of a science fiction animation – those guys on board look like stop-motion models to me. I was actually trying to catch the sun and shadows coming through the structure at the time, and I'm happy with the way it turned out. One of my favourite shots of the day.